THE ISLAND OF IŽ – 'The freedom we crave'
PON, 24.03.2014. u 23:24
POGLEDA 2530
The Island of Iž is a small island located near Zadar in northern Dalmatia. An island with the most amount of sunny days throughout the year is about two hours of a ferry ride from Zadar, which is the capital city of Dalmatia, even more ancient than Rome itself. A passenger ferry ride takes about 30 minutes and ferry transporting private cars about two hours.

The island has been settled since prehistoric times, once known as Ez. There is a catholic church, Saint Maria dating from the 9th to 11th century, also records of the first Croatian settlers date from the year 1266. Today island counts around 130 inhabitants. Its two biggest settlements are Veli and Mali Iž and as division mentioned the same one is implied in sense of how you want to spend your vacation. In idleness or activity, entirely up to you.

Thus Veli Iž is modernized, public, having highly modernized marina, post office, ambulance, restored church, theatre hall, tennis playgrounds, fish delicacies restaurants, three café's, markets, finally camp and hotel Korinjak. The only hotel in the whole of Adriatic Sea serving vegetarian menu based on Mediterranean cuisine along with 14 years old tradition in organizing program known as "Soul Rest" offering you holistic approach to you body, soul and mind by means of shiatsu, forest meditation, gong sound baths, solar yoga on mount Korinjak, tantric yoga, Ayurveda, trance dance ritual, including 12 meters high pyramid, intended for body healing evoking higher spirit and mind awareness threw meditation. So, lets say that part of the island is more commercialized.


Having that in mind, Mali Iž is something else all together, because Veli Iž is concrete covered but Mali Iž offers a more natural setting, meaning beaches are a bit rocky, not crowded so you can have a beach just to yourself. If you crave freedom away from big tourist meka's hustle, wishing for the cleanest sea you can dive in, hearing nothing but fulfilling silence as you hear dolphins, and trust me there is no greater feeling of freedom and benevolence in nature than one swimming with dolphins in bay Dražica. Having your senses awoken by the sent of pure nature; herbs, olive and fig plantations scattered all around the island you can surely appreciate taking stroll paths spread across green oasis ecologically preserved soil enriched by medical plants as lavender and so many others. As you feel stress and life living under constant pressure change into pure energy and positive awakening all you desire is more…it feels more like a soul pilgrimage…..so Iž is highly recommended for. Especially if you are with kids, safety is guaranteed, everybody know each other and until last summer there was no police on the island. Now, there is one diverted from Zadar, patrolling around only during the tourist season even though there is no crime on the island what so ever.
Mali Iž includes five scattered villages, Makovac, Mućel, Porovac, just 10 minutes walk away from the shore, and Komoševa and Knež – ports best known for its fishing tradition. So on daily bases locals bring here their fresh catch so you can buy fish at a low price. Life here is peaceful, idle and slow, precisely as it once was, simple. Even if you intercept a local asking him about the time he will give you a blank stare replying "as it matters" or "why do you ask". But don't worry, because soon enough you will get with the programme and learn enjoying "the time" without thinking about it, moreover you will leave watch behind because here time doesn't mean a thing, everything stops taking its own course, lovely that is. For beauty surrounding you, getting use to it comes easily an you don't get bordered with buying newspapers from a day before, getting bread at only local store early in the morning or late noon, leaving idly kids playing on central square without warring about the traffic or cars because there aren't almost any. Furthermore, there is no running water, no water infrastructure, only rainwater tank which every house owns, so locals buy water or collect rain during the season.
There is only one hotel on the whole of the island, in Veli Iž, but Mali Iž provides plenty of private accommodation in apartments, rooms and a few luxury villas.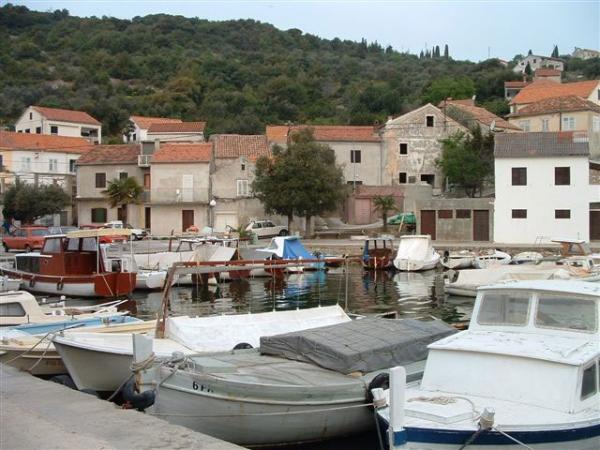 Ports Komoševa and Knež are ideal for sailors, where you can anchor your boat and enjoy safely. There are two restaurants in Knež, ˝Baroni˝ and ˝Knež˝, offering good wine of the region and Dalmatian cuisine delicacies. Also, Knež has an old olive factory which grinds olives and right above it, upstairs, is local museum, one I have to mention because every year something vital for that small community celebrates. Last year it was a book reveal that one local wrote about an island's history and we had reading nights spent enjoying it so much. Then there are constant exhibitions including paintings, sculptures put by the locals once again. So during the day they cultivate olives, fish, do pottery they are famous for and then in their free time they turn into regular Gordon Byron or Picasso even. That kind of creativity inspires you so much you start painting yourself, proved to be my case.
The main branch of somewhat of business is making olive oil, and if you ask me…the best one. I have been picking olives a few times and I can honestly say they are of the greatest quality because the oil is very thick and dark as it is supposed to be, but there is no presence of bitterness what so ever because they pay close attention to having removed all the little branches, leaves and petioles from the each and every olive individually. They are the ones contributing bitterness, so the taste is perfectly delicious without it.
Due to favorable winds as south wind and mistral, windsurfers will enjoy the weather, and as the sea here is always still, without any waves, and coast intended by twelve small islands, aquarium is ideal for sea kayaking. All along the island there is a number of marked cycle tracks and trekking paths, ideal for recreation or active vacation.
Mali Iž is trafficaly well connected to majority of tourist destinations in Croatia and the world due to airport in Zadar and highway Split - Zagreb, also a ferry terminal connects you easily to Italy and whole of a Mediterranean.
There is my favorite tree in Knež by the sea and a bench underneath it where I dwell on the past and dream of what's next to come enjoying the view. I lit a cigarette, stare at the sunset wishing I never go away. Here I need so little an gain so much, feeling free because I need nothing… just craving peace, tranquility… and that is what I get... each and every time, again and again. It is a peaty I have to go back to the city where days pass slowly, but a year runs by. But here… time stands still so you get to feel, see, taste, reminiscence and truly live, the way I am suppose to. We all do.
Autorica teksta: Aida Imširević
Comments
Brodarica NET je web sjedište koje na jednom
mjestu okuplja lokalnu grupu pouzdanih i kvalitetnih poduzetnika i pojedinaca s kojima će članovi i posjetitelji moći ostvariti interaktivnu komunikaciju.
Popularni članci